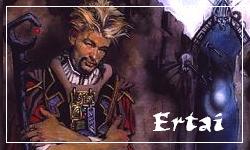 Ertai of Tolaria, Wizard Adept
"That's the difference between you and me: 'Can't' is not a word you'll hear me say."
--Ertai
Well, you're certainly full of yourself, aren't you? Not that it's a bad thing, but it likely ensures that you don't have all that many friends - those that endure you, however, are propably very good ones. You're undoubtetly talented and you revel in what you do best - and why shouldn't you? You prefer being honest over being polite. Your talent will reap you many rewards, your blunt honesty will reap you many beatings - but if you can survive both, you'll come out on top.
Take the Weatherlight ~ Rath Cycle test!