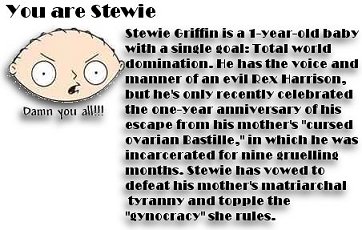 You are Stewie
Stewie Griffin is a 1-year-old baby with a single
goal: Total world domination. He has the voice
and manner of an evil Rex Harrison, but he's
only recently celebrated the one-year
anniversary of his escape from his mother's
"cursed ovarian Bastille," in which
he was incarcerated for nine gruelling months.
Stewie has vowed to defeat his mother's
matriarchal tyranny and topple the
"gynocracy" she rules.
Just because Lois has narrowly escaped several
attempts on her life thus far (from a box of
chocolates filled with active grenades to a
barrage of arrows shot straight for her head)
doesn't mean she's in the clear yet. Stewie
might begrudge Lois a modicum of respect for
being the worthy adversary she is, but don't be
fooled. One day her uppance shall come!
In fact, if it were not for his lack of muscle
tone, toilet training and his need for
parentally provided sustenance, Stewie would
have already gained control over most of the
third world, including Canada. Until his
dominion over all mankind comes to fruition,
anyone or anything that interferes with his
grand plan shall be destroyed. And if he can
create a machine that controls the weather,
what makes you think he won't be able to
control you, hmmm?
Which "Family Guy" Character Are You?
brought to you by
Quizilla