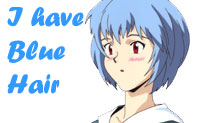 You are blue-haired. You are solemn, yet naive.
People are always trying to understand you,
because you seem to be off in your own little
world most of the time. You enjoy quiet
activities such as reading and sketching in
your free time. Sometimes you come off as a bit
insensitive, but it's mostly because people
don't always understand you.
What is your inner anime hair color?
brought to you by
Quizilla